Guest house Gradlwirt - Niederndorf
Linked accommodations
Hotel Gasthof Gradlwirt
You can find us on these routes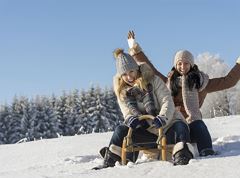 Perfect for a leisurely family run or a fast toboggan run in between.
Type: Sledding
Start: Erler Straße in Niederndorf
End: Hechenberg
Winter walk along the Jennbach
The Jennbach divides the towns of Ebbs and Niederndorf with its crystal clear water and finally flows into the border river Inn. In winter it has its own special charm and is definitely worth a walk.
Type: Hiking
Start: Niederndorf Centre
End: Niederndorf Centre