Team workshops & Adventures
A lot is easier together
Sharing experiences and results allows teams to grow together. A change of environment and fresh new projectn can accelerate this connection. And better still if working together can bring results you can see or hear. The stage is yours!
Learn to Rock - Beat it!
The workshops for rhythm fans – or wannabe fans! Everyone has rhythm! Learn all about the differing rhythms of percussion instruments – divided into groups according to the instrument and rhythm. You will be amazed by how quickly you can rehearse two sequences of sounds. The team from LEARN TO ROCK will record your performance at the end – so that you can take it home as a memento.
Facts!
Time: on request
Duration: 2.5 hours
Meeting place: on request
Costs: on request
Languages: German and English
No. of participants: up to 30 people
We will Rock you!
Always wanted to play in a band? Never tried? It can work! You and your team will practise some gentle rhythms from some catchy classics. nYou will learn to play a song using instruments from a band, based on an easy-to-learn approach. A chord on the guitar using just one finger, a drum set divided into instruments for several people. And soon a song will emerge! Your song! Alternative: On request, experienced musicians can help you write and set to music your own company song.
Facts!
Time: on request
Duration: 2.5 hours
Meeting place: on request
Costs: on request
Languages: German and English
No. of participants: up to 15 people
"Let's play the drums - team drums"
Create a unique experience for your team or your guests with rhythm, action and a lot of fun. Each participant receives an instrument and thus actively contributes to the success of the event. Even supposedly unmusical participants will find their rhythm. Power grooves are gradually assembled from the first, simple building blocks, which ultimately end in an impressive performance. Under the professional guidance of Rudi Bauer, a tremendous group energy is created that infects everyone and sweeps them away. The professional drummer and experienced entertainer ensures the best entertainment and an entertaining event that everyone will remember for a long time. With individually branded drumsticks, you can give employees or guests a lasting memory of this special experience.
Facts!
Time: on request
Duration: 20 to 90 minutes
Meeting point: indoor or outdoor, as desired
Costs: on request
Languages: German, English
Number of participants: from 8 participants
Alpine shelter seat – your team event!
Does your company have its own Alpine shelter seat? No? Then it's time it does! You will work with your team to build your own Alpine outdoor seat, complete with your company logo. First the individual stages of work are explained and then work aprons handed out to the team. The tasks are then allocated and the individual stages of work carried out with the help of a master carpenter: processing of the surfaces, application of the weather-proof glaze, drying of the various elements, modular composition of the individual components and application of upholstery and head rests, branded with the company logo. Step by step, your own Alpine shelter seat is created and will be delivered to your company premises following completion.
Facts!
Time: on request
Duration: approx. 4-5 hours
Meeting place: Hotel, seminar room or special location
Price: € 1,900.00 per shelter seat
No. of participants: max. 10 people can work on building a shelter seat. Depending on the location, several seats may be constructed at the same time
Film Workshop
Gain insight into the film industry with your team! You can slip into the various roles and let your creativity run free. Whether as director, floor manager, producer, make-up artist or costume designer: you and your employees can all adopt a role. The various tasks are then allocated to participants according to preference – technical, creative or organisational – so that there's something for everyone. The teams are all issued with HD cameras. To ensure that the actors and background are set off to the optimum, props can be hired out such as old household equipment or costumes. As soon as everyone has agreed on a theme and the purpose of the short film, work begins on writing a storyboard. This is followed by the filming and finally the edit with help from professional cutters. And… action!
Facts!
Time: on request
Meeting place: at the hotel
Duration: 4 hours
Price: on request
No. of participants: 30-40 people
Mobile arts workshop
At the mobile art workshop, renowned object artist Anneliese Sojer can help you create individual works of considerable creative and artistic quality. Working in the workshop involves an artistic approach to all kinds of everyday objects and materials. Participants bring in recyclable materials which are then upcycled to create works of art. The workshop allows participants to relax and draw on their own creative potential and encourages them to set off on their own artistic voyage of discovery. There is an artist inside each and every one of us – and the journey matters just as much as the end result!
Facts!
Time: on request
Duration: 2-3 hours (as required)
Location: on request
Price: € 300.00
No. of participants: max. 10 people
iPad Challenge
Combine positive emotions, such as having fun in the community, with the joy of success – you can firmly integrate the themes of your event using interactive geocaching. Participants explore the premises using a tablet and can influence the course of play. In teams of 6 or 10 people, they have to solve tasks and puzzles dotted across the terrain. A quiz, game or simple group selfie is sure to become a lasting memory. We can adapt the puzzles and tasks to suit your event. And at the end, the winning team are honoured accordingly. The competition and active participation make the Teamchallenge 4.0 a fun adventure with team-building properties. There are different tours to choose from. The game takes place in the town centre, in the Kaisertal nature protection area or on an individual route.
Facts!
Time: all year round
Duration: from 1 hour, can be planned on an individual basis
No. of participants: 12 up to 200 people
Meeting place: At the hotel or an individual meeting place
Equipment: Protection against the sun or rain
Languages: German, English
Costs: on request
Torchlight hike with archery
The landscape is mystical and romantic during an evening torchlight hike on the lake. Enjoy this special atmosphere in one of the most beautiful places in Kufsteinerland. We shoot halfway there an archery range like Robin Hood on targets and take us back to the Middle Ages. Specifically in winter it is a unique experience when the snow glistens under the light of the torches and under your feet crunches.
Facts!
Bookable: all year round
Duration: about 90 minutes
Meeting point: individually
Costs: from € 35 per person
Languages: German, English
Number of participants: 10-25 participants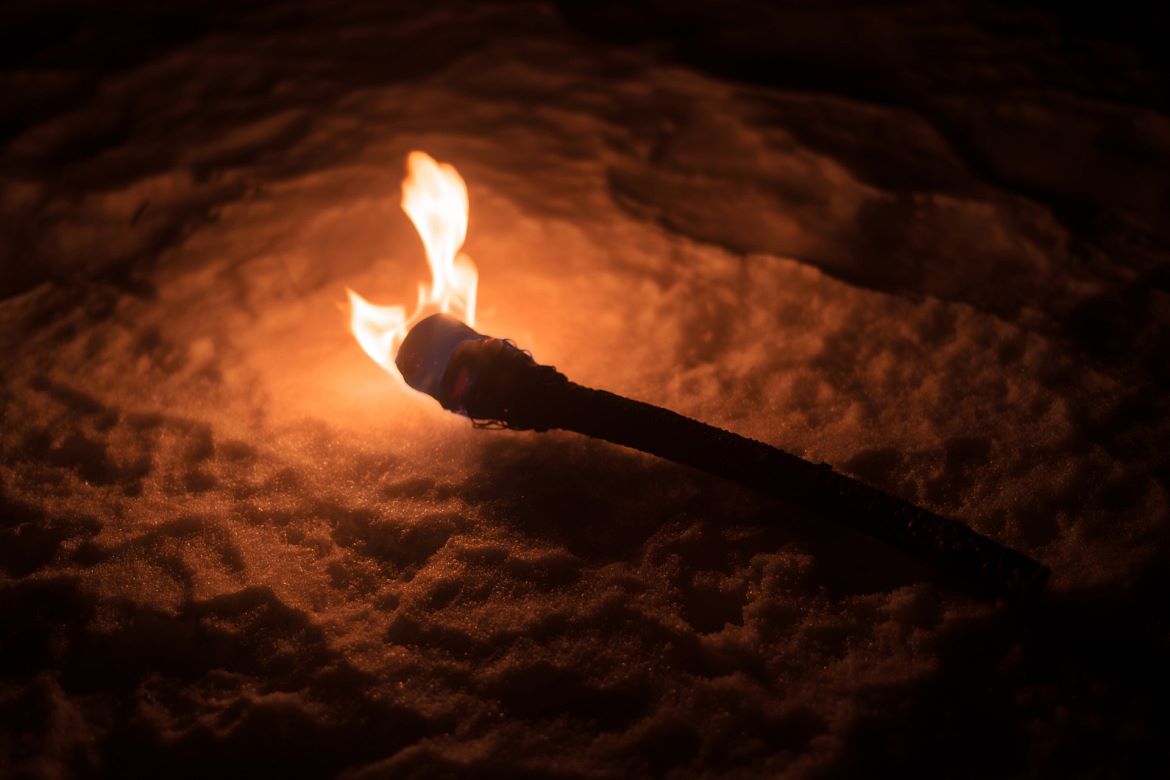 Canyoning "GREEN LAGUNE"
This tour is ideally suited for beginners with an average level of fitness. But before you set off, you will be required to don a wetsuit and will receive in-depth training. You will learn to adapt to the rhythm of the river on the river bed – and if you are quick, you might end up taking an involuntary bath! If you give in to the flow of the river and follow its rush, you can switch off and bring your thoughts back into balance. Explore the wide range of natural scenes: green pools carved out by water; untouched vegetation; clear cool water which you can jump into and rounded rock surfaces you can slide down. All of the jumps can be bypassed if need be, enabling your whole group to share this experience together.
Facts!
Time: flexible
Duration: 3 hours
Number of participants: 4 to 35 people
Meeting point: will be announced when booking
Equipment: bathing suit, towel and footwear for terrain that can get wet
Costs: from € 75.00 per person
Kaisertal-Challenge
Explore one of the most beautiful places in Austria. The former "Valley of the Outlaws" offers many worth seeing Places that you can explore using clues and tasks. Whoever solves the tasks in the group can find the right way in and out of the Kaisertal. In contrast to classic guided tours, each group develops its route in an exciting way.Team spirit and cohesion are strengthened - because only if the team learns together can they do it experience together. To get a little closer to nature and intensify the experience, at This tour deliberately avoided using technical aids such as GPS or tablets.
Facts!
Time: depends on the weather
Duration: from 2 hours
Meeting point: Kaiseraufstieg in 6341 Ebbs
Costs: on request
Languages: German, English
Number of participants: 6 to 25 people
Equipment: Hiking equipment and possibly sun or rain protection
Cave walking - Carving
An adventurous tour of a natural cave with rappelling and climbing included. You get one Headlamp, whose restricted cone of light hides your surroundings and thus focuses your attention. The feeling of time disappears and you concentrate completely on your next step in the dark. A Experience that your conference participants will definitely remember.
Facts!
Time: on request
Duration: 2.5 to 3.5 hours
Meeting point: will be announced when booking
Costs: on request
Number of participants: on request
Equipment: hiking gear and sports clothing
Don't theater yourself!
Improvisation theater is so much more than "just" entertainment. It promotes creativity, makes your group dynamic. Together with the improvisation group innpro you create a special theater experience. The audience determines what happens on the next moment. The program can be individually adapted to the group, the genre is also freely selectable. Should two teams duel with their acting skills? The stage is yours!

Or say "yes, and" instead of "yes, but" and venture onto the stage. As a group, you have to react to the unforeseen together, weave in every throw-in from outside and create a story from it. Improvisation theater is top performance for the brain and abdominal muscles. Don't be afraid of failure - joyful failure is an important part of this art form and therefore an important learning process for your team.
Facts!
Time: bookable all year round, regardless of weather
Duration: on request
Meeting point: Kultur Quartier Kufstein
Costs: on request
Number of participants: on request
A picture is worth a thousand words
As a team, create a lasting memory together. You can choose a motif in advance: abstract expressionism, figurative motifs or the artistic expression of your logo are immortalized on a canvas. To do this, everyone works together on one work. The colors can also be adapted to your company colors. "Imagination is more important than knowledge, because knowledge is limited." Albert Einstein (1879 - 1955)

All your team members are actively involved on a 1.8 x 2.4 meter screen and deliberately deal with the object or logo. The participants are guided from section to section by artist Christopher Eymann and accompanied with tips in the design.
Facts!
Time: all year round
Meeting point: Kultur Quartier Kufstein
Duration: 2-4 hours
Costs: on request
Participants: 10 to 20 people
Ukulele with Jele - the workshop for absolute beginners
The ukulele - the small instrument with the four strings is becoming increasingly popular. Whether in playschool, on the stages of this world or in your own four walls - the ukulele is a great instrument for accompanying songs and can also be learned relatively quickly. The workshop is about learning the basics for the instrument within four hours, learning to use resources from the internet and gradually putting goals into practice at home. The participants learn the most important chords and patterns and immediately play well-known songs as a group. In addition to a comprehensive script, participants will also receive Jeremy's online workshop with 77 videos and additional audio samples, which should make it easier to practice after the workshop.
Facts!
Duration: one-day workshop 4 hours (2x2 hours - e.g. also possible on 2 days)
Time / place: individually bookable and tailored to your needs
Meeting point: individually negotiable
Other: Ukuleles as rental instruments on site (included in the workshop price)
Costs / person: € 50.00 (including rental kululele and free online workshop for at home)
Maximum number of participants: 20 people
Languages: German