Cancellation guarantee for secure vacation planning in Kufsteinerland
Free cancellation option for your vacation in Kufsteinerland
We would like to give you security! At the moment it's difficult to know whether a vacation will be possible in the coming weeks and months. To make sure that you don't end up paying cancellation costs, all businesses with the cancelation guarantee offer the option to cancel at short notice.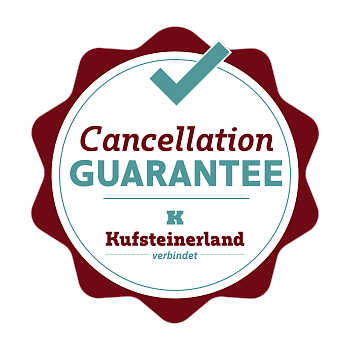 Special times call for special measures! All guests in our region are therefore being given maximum security when booking accommodation in Kufsteinerland.

The cancelation guarantee offers you the option of cancelling free of charge up to 48 hours, 7 days or 10 days before your arrival!

Advantages of the cancelation guarantee:
- Free cancellation up to 48 hours before arrival (or up to 7 or 10 days before depending on the accommodation)
- Free cancellation up to the arrival day in the case of border closure, entry ban to Kufsteinerland or exit ban in the home municipality
- Free cancellation in the case of a travel warning from the ministry responsible for the Kufsteinerland vacation region

A variety of businesses in Kufsteinerland are taking part in the cancellation guarantee so that they can offer you the greatest possible level of flexibility and security with your booking.
Accommodation providers with cancelation guarantee

for your flexible vacation in Kufsteinerland.

Here are all the participating businesses that offer particularly convenient cancelation conditions. Most accommodation options can be cancelled up to 2 days before arrival.

Details